Recent events throughout the world and my own social justice journey/learning have brought me to tears repeatedly over the past couple of weeks. I rarely lose my optimistic demeanour but, I wonder frequently how to face the challenges and horrific truths that impact our society right now.
Without adding a layer of frivolity to the very real tragedies people are facing and we as a society must address – I found a happy place – a place of joy, creativity and acceptance and above all – COMMUNITY.
This week I attended two magnificent events that honour and celebrate making and the maker movement in all its forms.
MakerEdTO @MakerEdTO  http://www.makeredto.com
This one day FREE event was designed to bring educators from all over together to share, experience and discuss the maker and makerspace movement that is sweeping our schools.  In many cases, this is happening through library learning commons and teacher librarians.  But many other educators are incorporating the maker concept into their classroom inquiries with amazing success.  Thanks to the organizers a wide variety of hands on workshops and open play activities were offered by fellow educators.
For me the event highlights were twofold.
The first was a too short but engaging keynote:
Peter Skillen @peterskillen https://theconstructionzone.wordpress.com
An experienced educator, course instructor and pioneer in using computers with kids in Ontario, Peter offered a pedagogical and historical perspective on the long term existence of the maker mindset in education and a great foundation for the positive impacts of making on children's learning and the education system as a whole.
His talk validated the movement in education towards inquiry and making.  It re-inforced why we must move away from standardized testing, worksheets and preset teacher-driven planning. It reminded us that the real value in making is not the product but the process of problem solving and the range of skills we develop as we engage in the act of making.  It ultimately made me feel more confident with my own professional journey.
The second and I would argue best part of the event was the networking and personal connections.  I was lucky enough to travel there with a lovely colleague from school who is a French Immersion classroom teacher.  Our dialogue alone was exciting and comforting enough.  But I was also privileged to meet and have the chance to chat with many others.  We all came with an open heart and mind.  Within no time I felt we had a created our own little community and, above all, safe space.  (I am aware that this may not have been the experience of everyone there but, it certainly was mine.)
A special thank you to:
Diana Maliszewski @MzMollyTL
Mme MacDonald @chezMmeMacD
Melanie Mulcaster @the_mulc
and the organizers, of course, for making me feel welcome, valued and inspired.
What more could I ask for in a COMMUNITY?
Maker Festival @MakerFestivalTO  http://makerfestival.ca
This event at the Toronto Reference Library (one of my favourite spots in university) also reminded me there is good in the world.  The two day free event welcomes all forms of making from high tech robots and 3D printing to paper folding and hand sewing.  Together with 3 of my 4 girls we explored three floors of imaginative, creative representations of the best in the human spirit.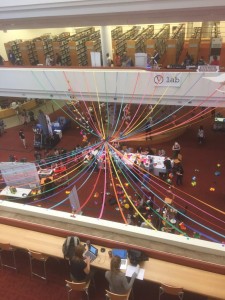 I once again saw people from a variety of backgrounds with a variety of skills and areas of passion come together to create an instant community.  Libraries have the power to do this in their own right but, this was a magical and self-directed experience that opened our eyes to the amazing things happening in the homes, businesses and community-based initiatives throughout our cities.  Every person we met had the same twinkle of wonder in their eyes as they shared about their creation.  The kids absorbed every word with grace and appreciation.
I know that a makerspace and a library cannot cure the deep, deep pain of cultural genocide, racism, heterosexism, sexism, religious persecution, poverty, gun violence and so so so much more.
I know that.
But the power of COMMUNITY can.  A community can overcome and bring about social change.
I am just grateful that the Maker Community reminded me of this when I needed it most.
My tears are still there but, so is my optimism.